Breakroom Supplies
Click here for our Breakroom and Facilities catalog
Let's face it - Happy employees are always more productive. By creating an attractive, comfortable, and well-stocked employee break room, you are providing an important area where employees can take a break, they can grab something to drink or eat, and be more relaxed, and more productive. Everything that is needed for a properly stocked breakroom is available from Universal Business Supplies.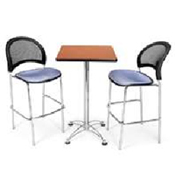 We can outfit your break room from top to bottom with dinettes sets, sofas, microwaves, refrigerators, as well as, all of the following consumable items:
Assorted Coffees
Bottled Water
Regular Snacks
Napkins
Bath Tissue
Cleaning Products
Brooms & Mops

Assorted Teas
Other Assorted Drinks
Hot and Cold cups
Paper Plates
Trash Bags
Hand Soaps
First Aid Products

Assorted Juices
Healthy Snacks
Plastic Utensils
Paper Towels
Waste Containers
Disinfectants
Medications

All of these items and much more are available from Universal Business Supplies.
Benefits of Employee Break Rooms

Boost employee morale - When employees feel good they work better, longer, harder and are motivated to succeed for a company that cares for their well-being. It is proven that happy employees are healthier, happier at work and home, and display better attendance than their counterparts.

Increase productivity - Employees that eat their lunch on premise typically stick to the allotted break schedule. Having to leave the facility to procure a meal often lends to taking extra time due to waiting lines, slow service at restaurants, additional errand running etc.

Offer some healthy food options. Even if the only source of foods is vending machines, offering healthy food alternatives is a good idea. The sugars and caffeine found in junk foods make employees initially gain a burst of "energy" but shortly they crash, losing productivity along the way. Healthier food choices keep employees healthy, and more productive without thinking about it.

Let us here at Universal Business Supplies help you to keep your office supplied with everything that your breakroom needs so that you can help your staff to be happier, more comfortable, more motivated, and more productive. Call one of our consultants for more details.