Buy Local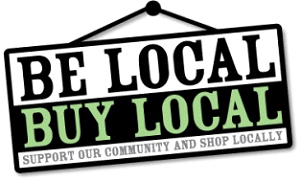 Did you know that when you buy local, the majority of every dollar that you spend is re-circulated into our community and helps to support our community.


Were you also aware that small businesses provide many more jobs, pay much more in taxes, and put more money back into the community than traditional big chain stores?


That's why it's important to learn to buy local.


Make sure that the money that you spend stays here in our community to re-circulate, and provide jobs, and tax money to our local treasury.


Universal Business Supplies is a small business that has risen to become one of the largest suppliers of copy paper and toner in our community.


Our valuable customers have come to rely on us for copy paper, and toner because we are reliable, fast, and we offer extremely competitive prices.


Our friendly drivers will deliver to your office with NO DELIVERY CHARGE no matter where you are.


Let us take the hassles out of shopping for copy paper and toner.


You can also get American Advantage miles when you buy from us.


No one else can offer you all that Universal Business Supplies provides.


Just call us and we can get your paper and toner delivered quickly.