Office Design Services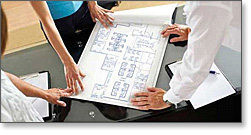 Here at Universal Business Supplies our professional design consultants provide computer assisted design services to help you to lay out your office and use space as efficiently and effectively as possible. Our designers can handle everything from one room office design, to the office design and layout of large office buildings. Then we can fully equip your office with everything that you need from furniture, to PCs, printers, and office supplies. A few examples of our computer assisted 3D design services are shown below.
---
The following configurations are preconfigured for easy ordering. However, we have so many different possible combinations and configurations, it would be impossible to list them all. If you have a general idea of what you need, we can help design the right configuration for you.