Original Ink and Toner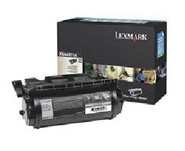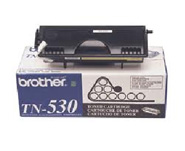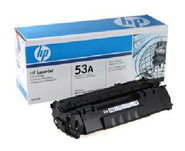 What Makes Original Toner and Original Ink Superior?
Here at Universal Business Supplies we provide genuine toner and ink cartridges, and also replacement cartridges made from other manufacturers. Because of the facts presented in this document, we will always recommend genuine machine cartridges, but we make other replacement cartridges available for customers who want them.
While there are some replacement toner and ink cartridges that deliver close to the same quality as genuine toner and ink manufacturers, most "copy cat" toner and ink suppliers deliver inferior quality products, and often times, inferior results. The information presented here has been compiled from articles and statistical data as referenced below.
Statistically, the most unreliable type of cartridges are ones that you refill from either a refill kit, or from a refill ink machine normally found at office supply chain stores. We are providing the information in this document to share statistics that you may find helpful.


Statistics have shown that one in three refilled ink cartridges leak, streak or fail.


Statistics have shown that refilled ink and toner cartridges deliver significantly less pages than the original cartridges from the major manufacturers such as HP, Lexmark, Brother, Xerox, etc.


A 2009 ink cartridge reliability study performed by Quality Logic, an independent testing organization, showed that HP inkjet print cartridges outperformed the refilled ink cartridges tested, and printed significantly more pages than the refilled cartridges tested.


More than 33 percent of tested refilled ink cartridges (or one in three) failed


Old ink residue can build up and clog the microscopic print nozzles causing poor print quality.


When you buy and use refillable ink, you don't know how many times the cartridges have been reused or refilled


Page Yield
Data indicates that refilled ink cartridges and toner cartridges, on average, do not deliver the same expected page yields as genuine inks.

A January 2009 ink cartridge reliability study conducted by Quality Logic, an independent testing organization, compared the page yield and reliability of Original HP inkjet cartridges to nine major brands of refilled inkjet cartridges, and found that Original HP ink cartridges printed significantly more pages than the refilled cartridges tested (see picture below).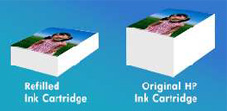 Inkjet Refill Kits Can Be Messy
Some inkjet refill kits are poorly designed, and when trying to refill ink cartridges yourself, the ink can cause staining of clothes, and/or surrounding objects and materials. Using inkjet refills in these situations can be a nightmare.

Refills Can Cause Printer Problems
Inkjet refill kits can cause problems for your printer in two ways: either by providing low-quality ink, or by reusing an ink cartridge too many times. Low-quality ink can clog the nozzles in your ink cartridge, rendering it unusable and potentially damaging to your printer hardware.
Even if you get high-quality ink, you can still experience trouble if you reuse an ink cartridge too many times. Print heads, built in to the cartridge itself, receive the most use and wear out of any printer component. If you reuse a cartridge too many times, the print heads may wear out and fail to perform properly, leading to poor-quality prints and possible machine damage.

Voiding Your Warranty
Most manufacturers' warranties contain language that states that your warranty is "void" if you use any product other than the manufacturer's products in your printer. If you use inkjet refill kits that block the nozzles or otherwise damage your printer hardware, the manufacturer is not liable to fix the product. Even if you have an issue that's not related to using cartridge refills, the manufacturer can refuse to fix it if you've used a refill kit or non-genuine ink or toner.

Conclusion
Independent testing has shown that genuine cartridges offer the best overall value with an unrivaled combination of quality, reliability and ease of use. Multiple independently-validated tests have reinforced the superior quality, greater reliability, and higher page yield of inks from original manufacturers compared to other aftermarket offerings. With original inks and toners, customers know they are getting exactly what they pay for - peace of mind knowing that their printer will consistently deliver the type of quality results that they expect.